Providing Advice, guidance and counselling
There are different theories in career development and within these one can choose according to the presented scenario. Abraham developed a Skilled Helper model which can be used a basis of advising.
Gerard Egan's Skilled Helper is a solution focused counselling approach where each stage consists of specific SKILLS assisting the Helper to move the client forward. The client's own agenda is central and the model should be used flexibly.
Framework for conceptualising the helping process: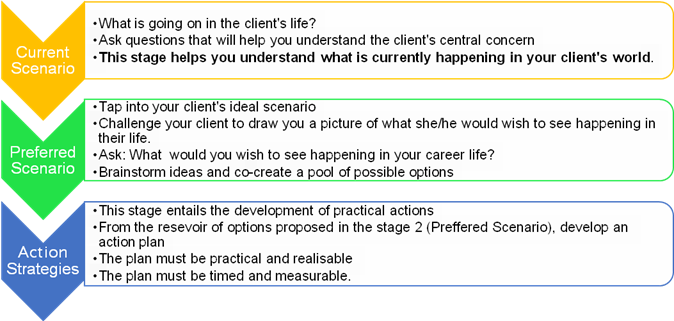 When Assisting Learners
A learner is typically an individual who is still in basic education under the age of 21. This individual is someone who is still in the schooling system and still has a wide range of options open to them. As an advisor you need to always highlight this to this individual and let them know that they still have the option to change their minds at whichever point they are in their schooling. You need to also bear in mind that this individual is under parental supervision so whatever advice is given to them may require parental consent.
When Assisting Students
Students are those in:
Technical, Vocational Education & Training
Higher Education and Training
Some form of training programmes
When Assisting Graduates
Graduates are individuals who have recently obtained a qualification they have studied. The qualifications may vary in NQF levels. Some graduates are in possession of a first degree and some are in possession of a higher degree. The advice you provide will depend on an individual's situation.
When Assisting Workers
There are important considerations that must be factored in when advising a professional who wants to change their career. In the 21 century people who want to change careers or progress to senior or better positions need to understand that it will take more than degrees and some basic skills to stay competent in the labour market. Employers are now looking for someone with unconventional or employability skills, people with problem-solving skills, Communication skills, strong work ethic or people who take initiative. First and foremost, such a client has either amassed some occupational experience or maybe not.
When Assisting Unemployed People
Being unemployed could be frustrating if you are actively looking for employment and you are unable to find work. With the high rate of unemployment in South Africa, the youth are the most affected and frustrated by the situation as some of them possess skills and qualifications but still not able to participate in the country's economy: There are effective ways that can assist you to become employable.
When Assisting People with Disability
The model presented still applies. All students, including those with disabilities, need advice about career choices that is based on the student's interests, abilities, skills, as well as on a realistic picture of today's job market. The current explosion of technological advancements coupled with the unique motivation of individual's means that an ever-widening range of the inventory of occupations in our economy is accessible to increasing numbers of people regardless of disability.
When Assisting Ex-offenders
Dealing with potential employers is never an easy task for clients with criminal records. Ex-offenders who lie on the application may get hired, and then get fired if their record becomes known. Those who are honest may feel like they never even get a chance. Although there are no magic formulas for dealing with this sensitive situation, the following tools and guides may be helpful.
When Assisting Adult Learners
It is typical for some adult learners to feel hopeless about the future due to age and other factors. The common perception is that companies or employers look for young people. Therefore, it is advisable that you consider this context when advising an adult learner. Important to remember is that an adult learner has career needs.